Chance Met
Jeremiah Crawford's need for coffee leads to a chance meeting with Trey Damone and his son Mikey. Mikey's psychic abilities are obvious to Crawford, who wants to help the child learn to manage his powers. And Trey's need for someone to care about him and his son is even more obvious.
Trey Damone brought his son to Boston to escape Mikey's mother's family–a cult-like group who want to take Mikey away from Trey. Trusting his new neighbors wasn't easy for Trey. Trusting the man he randomly meets in a donut shop will be harder, especially when Trey isn't only keeping Mikey's secrets anymore. He has a secret of his own now: a month ago, he was changed to a werewolf while trying to save his son. If Trey tells Crawford the truth about himself without his Alpha's permission, the penalty could be death.
Crawford hates secrets, even though he's keeping one of his own: His employer is a sorcerer. And while Crawford's life isn't at risk if he tells Trey the truth, he won't betray his boss. He trusts Trey and wants to earn Trey and Mikey's trust, but can he and Trey build a relationship based on the secrets they have to keep?
Portions of this book were originally published as a short novella by MLR Press in 2013. This version has been significantly revised and expanded from the original. This book is set in the Real Werewolves Don't Eat Meat universe, but is not part of that series. This book includes references to off-page murder of an adult and child abduction ( both occurred in the story's past) and mentions of homophobia. It also includes a side helping of "Why don't they just talk to each other???"
Available in Kindle format and paperback on Amazon!
Paranormal Romance Guild gives Chance Met 4 stars and says, "This is a contemporary romance with a little paranormal thrown in and I highly recommend this book. This is a new author to me, but she is now on my list of favorites."
QueeRomance Ink says, "The growing relationship between Crawford and these two is what kept me reading. It's all about trust, respect and acceptance, and how these are not always easy things to give."
Fill the Empty Spaces
Austin and Del were the love of each other's life for two decades…until a drunk driver ended Austin's. Now Del struggles to get through each day without his partner. A month after Austin's death, Del has yet to return to work and has pushed away most of his friends. Only Remy, Austin's best friend and drag sister, has stuck with Del through their grief. Del knows Austin would want him to go on living, but how can he when Austin is gone?
In an effort to get Del back into the realm of the living, Remy books an afternoon at a local cat cafe. A visit which changes Del's existence. He bonds with Charlie, a senior cat with health issues who wears sweaters to cover his lost fur, and with Lochlan, a human who volunteers at the cafe. On impulse, Del signs up to volunteer there too. And with the friendship of Lochlan, Charlie, and the rest of the resident cats, Del begins to live again.
As Del and Lochlan's friendship deepens, Lochlan admits one of his deepest secrets: He is a psychopomp, a human who guides spirits to the "crossing point" at the time of their death. In his need to understand Austin's death, Del interrogates Lochlan, and Lochlan turns away from him. During the weeks of no contact, Del emerges more into life, and realizes, in Lochlan's absence, that he is falling for Lochlan. When they finally reconnect, the sparks are there, but only a few months after Austin's death, can Del let himself love again?
This book has a main character who has lost his life partner and depicts his grieving process. It includes discussions of child abuse and child death, suicide, and homophobia and transphobia. But it also includes an adorable cat who wears sweaters.
Available in Kindle format and paperback on Amazon!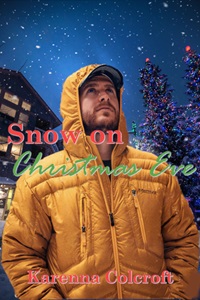 Snow on Christmas Eve
For the first time in his life, Tag won't be spending Christmas with his close-knit family. Rejected by them after he announced he was moving in with a man, Tag has had no contact with his parents or brothers. And his Christmas spirit has taken a major hit, much to the dismay of his partner Darion.
On Christmas Eve, a light snowstorm leads to Darion's assertion that Christmas Eve snow is magical and wishes made in it will come true. Taken in by Darion's childlike belief in magic, despite his own skepticism, Tag wishes he could have his family back.
But magic doesn't exist, and wishes don't come true… or do they?
Ebook available from your choice of retailer! Universal Buy Link